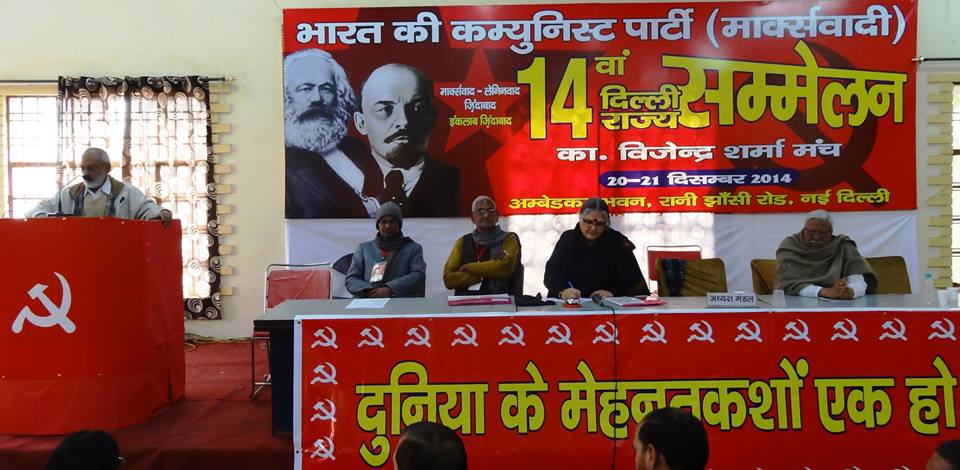 The 14th Delhi State Conference of the CPI(M) took place on 20-21st December 2014 in Comrade Mohan Lal Hall at Ambedkar Bhawan, Delhi. The Conference began with flag hoisting by Delhi State Secretariat Member Rampal and laying flowers on the Martyrs Column.The Conference was inaugurated by Party General Secretary, Prakash Karat. He spoke of how the global financial crisis continues to make its impact felt even after eight years. The revival is incomplete and uneven. Even though US imperialism has weakened in the economic realm in the last 10-20 years, its hegemony at the military-political level remains intact. Left is fighting back to overcome electoral setbacks and develop struggles against neo-liberal policies, communalism.
A presidium consisting of Brahmjeet Singh, Rampal and Sehba Farooqui presided over the Conference. State Secretary, P.M.S. Grewal presented the Report on behalf of the Delhi State Committee. He called upon the delegates to discuss ways to intensify sustained struggles on local issues of the people, draw correct experiences fromsuch struggles and take tasks which can help in the expansion of the party and the mass organizations.
The Conference elected a 30 member State Committee with K.M. Tiwari as its Secretary. A 9 member Secretariat was also elected. Jogendra Sharma, member Central Secretariat gave the closing address and stressed the need for sustained struggles.Delhi Party State Conference concluded with a call to build organisation through struggles.